COMITATO SCIENTIFICO | CALL FOR PAPERS | KM AWARD
---
CARLO SORGE, presidente
JEKPOT, chairman

MARCO BETTONI
FERNFACHHOCHSCHULE (CH), research director

MANFREDI BUONOMO
KNOWLEDGE MANAGEMENT consultant

SILVANA CASTANO
UNIVERSITA' DI MILANO, ISL@B, professor

CLAUDIO CILLI
ISACA ROMA, chairman

MARCELLO FONTANESI
UNIVERSITA' DI MILANO BICOCCA, Rettore

LUCIANO GALLIANI
UNIVERSITA' DI PADOVA, Facoltà di Scienze della Formazione, preside

LUIGI GUERRA
UNIVERSITA' DI BOLOGNA, Facoltà di Scienze della Formazione, preside

DOMENICO LAFORENZA
CNR-IIT, director

GIANCARLO MAURI
UNIVERSITA' DI MILANO BICOCCA, DISCo director

GUIDO PODESTA'
PROVINCIA DI MILANO, presidente

ROBERTO POLILLO
UNIVERSITA' DI MILANO BICOCCA, professor

ORESTE SIGNORE
W3C ITALIA, director

ALBERTO SILVANI
UNIVERSITA' DI MILANO, UniMitt, director


---
2011

The call for papers has the goal to collect the best original researches with a scientific approach on knowledge management, from a cultural, organizational and technological point of view through papers talking about knowledge management scenarios, strategies, methodologies, technologies, applications, processes, focus on, solutions, best practice, experiences able to increase the competitiveness od organizations and the professionality of his collaborators managing knowledge.

This means presenting not commercial papers referring on technological and managerial directories of the knowledge management (km tracks).
Accepted papers will be inserted in the proceedings and could be presented in Km Tracks Session by registering to the forum; to make your registration to the forum click on 16th KM FORUM REGISTRATION.
Best papers will be published on KappaeMme.
To participate in this call for papers CLICK HERE indicating your personal data and the subject of your request (CFP KM16); then send the web form and you will get the documents to participate in cfp.

CRITICAL DATES
July, 4, 2011: Submission deadline for papers
July, 25, 2011: Notification of acceptance for papers
September, 9, 2011: Submission deadline for camera-ready papers and (possibile) registration as a speaker for the author of the validated paper to present it within the Km Tracks Session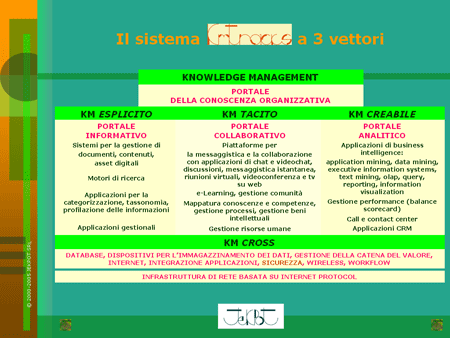 Competitività - Competitiveness
La competitività organizzativa è la capacità di un'organizzazione di competere sul mercato di riferimento attraverso strumenti in grado di garantire il miglioramento o perlomeno il mantenimento della posizione raggiunta sul mercato di riferimento.
The organizational competitiveness is the ability of an organization to compete in the her market by instruments assuring the improvement or at least the status quo maintenance on the market.

Tematiche - Topics


Ontology
Information retrieval
Information categorization
Information taxonomy
Information profiling
Information lifecycle management
Records management
Search engine
Document management
Content management
Enterprise Resource Planning
Product Lifecycle Management




Messaging & Collaboration, videocommunication
Videoconferencing, virtual meeting,
instant messaging, web-tv, unified communication
Elearning, Community management
Knowledge mapping
Intellectual asset management
HR management




Application mining
Data mining
Text mining
Executive Informations Systems
Information and knowledge visualisation
Olap
Reporting
Performance management
Social Network Analysis
Call e contact center
Customer Relationship Management




Information, collaboration, analitical, knowledge Portal
Portal Applications Integration
Database management
Green IT
Internet management
Quality management
Outsourcing and cloud computing
Project management
Security management
Supply chain management
Storage management
Web 2.0
Wireless management
Workflow management
Cultural, organizational, technological approach related to:
- Scenarios, strategies, methodologies, technologies, applications, processes, focus on, solutions, best practice, experiences
- Education (continuing, oriented to organizational goals, processes and roles);
- Innovation (cultural, organizational, technological; on product and process);
- Research (scientific, industrial);
- Interactions among education, innovation, research;
to increase the competitiveness of organizations
and the professionality of his collaborators

* * *

---
Prize to the best talk of KM Tracks conference, assigned from the public.
The prize is a plate of the artist Simona Morani.

Albo d'oro
2010
Dario de Judicibus, IBM fashion industry leader

2009
Renato Parascandolo, RAI TRADE chairman

2008
Guglielmo Trentin, CNR-ITD senior researcher
2007
Marco Pratellesi, CORRIERE.IT director
2006
Marco Bettoni, FERNFACHHOCHSCHULE director (Km Lab); Maria Cristina Lavazza, SVILUPPO ITALIA manager (Km Focus); Oreste Signore, W3C ITALIA director (Km Tracks)
2005
Alessandro Chiechi, VODAFONE customer operation km manager (Km Lab); Flavio Fontana, ENEA usability lab director (Km Focus); Domenico Natale, SOGEI manager (Km Tracks) -
---