DESCRIZIONE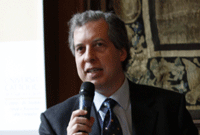 Carlo Sorge, general manager JEKPOT
Km Tracks chairman

KM Tracks nasce nel 2000 come convegno fondativo di JEKPOT sul knowledge management (KM).
Il KM è una teoria manageriale per l'incremento della competitività delle organizzazioni e la professionalità dei suoi collaboratori, declinata su un approccio di innovazione culturale, organizzativa, tecnologica; su una metodologia di rappresentazione della conoscenza organizzativa (dati, informazioni, documenti, beni digitali e intangibili come competenze, emozioni, relazioni, valori delle persone) per segmenti (km tracks: esplicito, tacito, creabile, cross) abilitata dalla tecnologia; e sull'ottimizzazione di processi connessi con la gestione, la comunicazione e la protezione della conoscenza organizzativa.
Il convegno prospetta contenuti di natura scientifica (rivenienti da call for papers), operativa (progetti basati su soluzioni) e culturale rappresentati per tipologia (management track, communication track, protection & cross track).
Leggi l'agenda e iscriviti subito al 26° KNOWLEDGE MANAGEMENT TRACKS. Ti aspettiamo!


---
KM Tracks was born in 2000 as a founding conference of JEKPOT on knowledge management (KM).
KM is a managerial theory to increase the competitiveness of organizations and the professionalism of his collaborators, declined on an approach of a cultural, organizational and technological innovation; on a methodology for representing organizational knowledge (data, information, document, digital asset, intangible asset suach as competence, emotion, relationship, value of people) by segments (km tracks: explicit, tacit, creable, cross) enabled by technology.
Conference show scientific (paper by call for papers), operating (project based on solution) and cultural contents, divided by type (management track, communication track, protection & cross track).
Read the agenda and register now to the 26th KNOWLEDGE MANAGEMENT TRACKS. We wait for you!


---